Understanding Truck Accidents
Today I'm going to talk with you about what you need do to help your case after an accident with a large truck.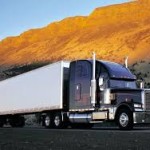 You might be really hurt – you might be still in the hospital and you have insurance people calling you and you're wondering what to do next. You're not alone – Truck accidents happen nearly 11 times a day causing nearly 4,000 fatalities according to the NHTSA. And then there's insurance companies, who make more of a profit the less they pay out to you. Sometimes you can get what you need from your insurance but more often than not, they'll minimize what they'll pay out even when you've been paying them all these years. Even if you're really injured.
A Story About Truck Accidents That You Should Hear
So let's talk about what you can do to protect yourself. I wanna tell you a story about John – John was in an accident with a large truck a few weeks ago and got really hurt. The truck began fishtailing on a two lane road when the wind hit the empty trailer. John's car went off the road and into a ditch where he was knocked unconscious. He didn't know that after the accident, and as soon as possible, he could have called a truck accident lawyer who, without charging any kind of up-front fee, would have immediately started looking into what caused the accident, sending investigators to visit the scene and collect evidence, gathering accident reports and medical documentation in order to build a good case against the trucking company. What John didn't know is that the trucking company had already hired accident investigators, and an army of other people who have been out there building a case against John in order to whittle down the insurance settlement or try to make sure he gets nothing.
Truck Accidents are Taken Seriously
All truck accidents are taken very seriously by trucking companies. This is a really common scenario that we see at Friedman Law here in Nebraska – cases of truck accidents that are brought to our attention too late – and now the scene has grown cold, the evidence has been lost, and the other side has the advantage. If you've been injured in a truck accident, or even if a family member has, we want to help defend you before the evidence grows cold. Call us anytime at 800-220-9990 – we're attorneys for people in truck accidents and we're here to help you and protect your rights.